Sincerity and credit are infinite capital
We have 20 years of experience as an expert in IT infrastructure construction, networking, cyber security, and business improvement. He has a total of 8 years of field experience as an engineer for venture companies, SI companies, and telecommunications companies, and a total of 12 years as a consultant for consulting firms.
Currently, we are operating the company and providing services (outsourcing and advisors), but we also accept outside officers and advisors as individuals.
We are involved as an advisor, advisor, and trainer for multiple companies, and we provide client-first support both as a company and as an individual. If you are interested, please let us know.
Business consignment and advisor (as a company)

Officers and advisors (as individuals)
"Honesty and credit are infinite capital"
This is the company motto of my grandfather, who was an entrepreneur. Unfortunately, the company (Komatsu Sangyo) that my grandfather founded and inherited from my father went bankrupt, but it is a company motto carved in a wooden carving commemorating my father's relics. This is also our company motto.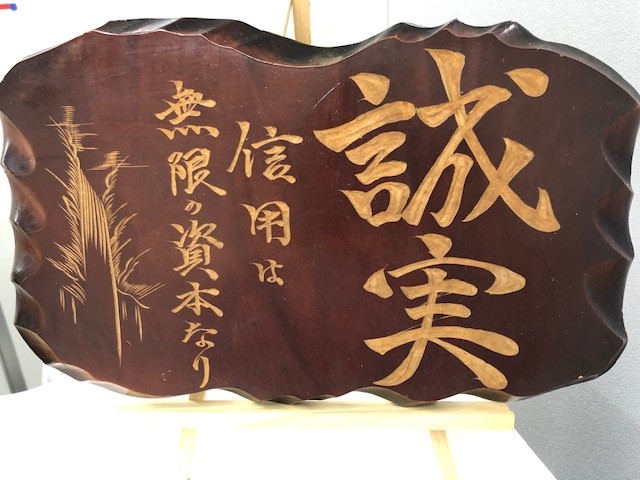 We will support you with sincerity and sincerity, always thinking that we can contribute to changes in social structure, industry demands, and clients on a zero basis without excluding all possibilities.
We are practicing an agile approach in the areas necessary to strengthen the business model, including the realization of value in projects at the conception / planning stage, and technical examination / implementation.
We have a track record of participating in the launch of platform services, cyber security, and the introduction of agile methods, including foreign-affiliated companies.
IT infrastructure construction / network
Cyber ​​security
Business agility agile development
Hiromi Nakatani Hiromi Nakatani
title
・ Axis International CEO
・ Agile coach
・ White hacker
・ Infrastructure expert
Career
・ Product manager
·Architect
・ Project management trainer
・ Infrastructure expert
·consultant
・ Security engineer
・ Network engineer
Biography
・ Axis International Co., Ltd.
・ Accenture
・ Verizon
・ Net One Systems Co., Ltd.
・ SB Technology Co., Ltd.
・ SoftBank Corp.
・ Graduated from Rikkyo University Faculty of Letters, Department of History (1998)
Lecture / training
・ Advanced Network Security Ministry of Land, Infrastructure, Transport and Tourism
・ Cyber ​​security measures practice National Police Agency
・ Vulnerability inspection ・ Incident response
・ CSIRT system construction and annual training Local government
・ System audit practice course (management) Incorporated administrative agency
・ System Audit Practice Course (Technology) Incorporated Administrative Agency
・ Project management basic course Private company
・ Project management practice course Private company
・ Many community lectures
Writing / translation
-Basics of Agile Development WEB course provided (Aitec 2019)
・ Co-authored "Talent Triangle" General Incorporated Association PMI Japan Branch 2018.10
・ Co-translation "Project Management Toolbox"Dragan Milosevic (Author), PMI Tokyo Chapter (Edit, Translation) 2007.2
Qualifications/Licenses
-PMP
・ Disciplined Agile Senior Scrum Master
・ Certified Scrum Professional Product Owner (CSP-PO)
・ Certified Scrum Professional Scrum Master (CSP-SM)
-Certified SAFe 5 Program Consultant (SPC)
· Certified SAFe 5 Product Owner / Product Manager (POPM)
・ Certified SAFe 5 Advanced Scrum Master (SASM)
・ Advanced Certified Scrum Product Owner (A-CSPO)
・ Advanced Certified Scrum Master (A-CSM)
-Certified Scrum Product Owner (CSPO)
-Certified Scrum Master (CSM)
-CISSP
-CISA
-CISM
-CDPSE
-Certified White Hacker (CEH)
-ISO9001 QMS Associate Auditor 
-ISO14001 EMS Associate Auditor
-ISO20000 ITSMS Associate Auditor
-ISO27001 ISMS Associate Auditor
-ISO 45001 OHSMS Associate Auditor
-ITIL Foundation
-National NLP Association Certified NLP Practitioner
Qualifications in the engineer age
・ Cisco Systems Engineer Certification Examination (CCIE No.11593, CCNP, CCDP, CCIP, CCSP)
-Sun Microsystems Engineer Certification Exam (SCSA, SCNA, SCJP)
Activity group
-Member of the American Project Management Institute
-Project Management Member
-IIBA member
・ International CIO Society
・ Activity group
policy
-We will work on what we can contribute without excluding all possibilities.
-Do not make a distinction by person or company, do not change the response.
-The social transmission is the personal opinion of Hiromi Nakatani.
-It is not the official view of the organization to which you belong or the client you support.
-The remarks are those of the time and are not guaranteed in the future.
-Any questions or feedback are always welcome.